If you are a loyal customer of Craigslist website, you may be aware of the fact that Craigslist had a most hot section called Personals. But ever since September 2018, this section has been removed from Craigslist site forever. It was a big shock to millions of the users who were seeking casual encounters in this section.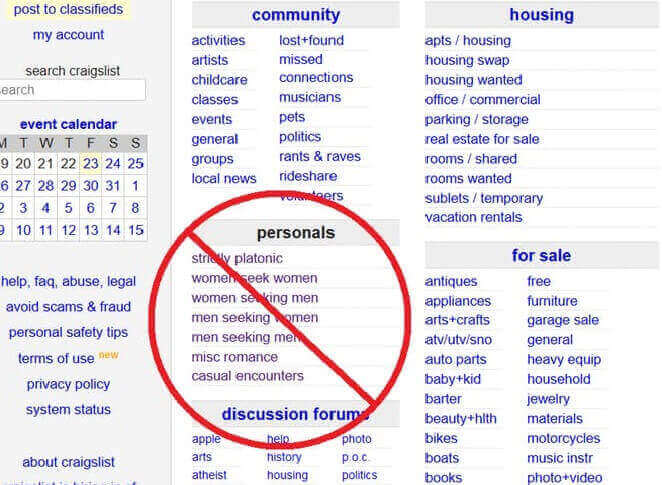 Craigslist Dating
Craigslist personals was a great source for dating and hookups in many people' eyes. It had attracted so many users since it was totally free and there were many options out there for people to choice from. From women seek women, women seek men, men seek men, men seek women to many others, and it was LGBTQ friendly. It made the process easy and convenient for everyone to find quick hookups they want.
Why they shut down Craigslist personals
Now that personals section was so hot then why it had been shut down suddenly by the site-owner? Read on and you will find the clue in the next few lines. Craigslist personals was such a hot place which not only attracted many normal users, but also some sex workers who wanted to take advantage of the place to increase their revenue. Then more and more sex workers found this wonderful place and kind of took over the place.
But this is not the fatal reason for its termination. In March 2018, right after Trump signed the FOSTA-SESTA law; many websites including Craigslist took action to ban parts of their platforms. The law was intended to make it easier to cut down on illegal sex trafficking online. That's the main reason that Craigslist terminated its personal section.
Craigslist Alternative
Actually as we mentioned that Craigslist is not the only site that affected by the law. It indeed affected many other sites like Craigslist personals for casual encounters such as Backpage etc. Since all places you can think of to seek hookup are now gone, where do people go to find girls like you did in the past on Craigslist? According to Google Adwords, the search volume of Craigslist alternatives increased dramatically after it's down. That's to say many people are seeking the replacement of Craigslist personals – some free hookup sites that actually work. Luckily, we have the better option for you – GrindrStraight.
How does it work for hookups
GrindrStraight is a hookup site for men and women who are seeking for no strings attached casual fun. There is no beat around the bush, just like-minded members get connected with each other to have casual fun as you wish. Just like Persons, it is easy and convenience to use as your hookup finders.
You just need to take less than one minute to create your online profile and then you can start to search and browse members based on some detailed criteria like age, location, body type, race etc. It's also a LGBTQ friendly site. You can choose your sexual orientation from straight, bi-curious, lesbian and gay. Once you found the ideal member you would like to contact, just go straight and make the connection.
There is also much more wild fun ways for connection than on any other platforms. Usually on other sites, you connect with your ideal partner with messages and go back and forth to arrange a hookup. But here on this platform, you can choose your preferable way to make contact. You can go through the traditional way of messaging. And you also have other option to video chat with the one you are into at once!
Yes, you can enjoy the wild fun as soon as you want it. And you don't need to worry about being awkward or rude for a bold requirement. Members here are all open-minded and willing to experience the exciting moments just as you do. So if you are looking for some substitute for Craigslist, then be sure to check out GrindrStraight – the haven for casual hookups.